Tuesday, April 29, 2008
Another life
I've been in a state of barely suppressed excitement, almost glee, this past month and a half, because in about three days I'll be performing in a musical at the Old Vic.
I used to do a lot of theatre back in college (university) and I even put my pen to paper and wrote and directed a short play as part of our theatre festival. Since turning into a corporate drone, I've become one of those bores who "coulda been a somebody" had I not sold my dreams for a steady paycheck. Now, given the chance to perform on one of the most historical stages in the world, the mind reels.
As with many things I have Van to thank for this - she suggested I put my name forward for the open auditions. I can't stress how low my expectations were when I first walked into that audition room and saw professional and semi-pro actors all stretching and flexing, preparing for what turned out to be a DANCE audition. F*ck me! I wanted to slink quietly away.
But somehow, I got the callback, and passed that one as well, and, two months later, here we are... tech rehearsals for
Branded at the Old Vic.
Monday, December 10, 2007
We're not unreasonable
Van's out of town this week and I (foolishly) failed to make the appropriate social preparations. The last time I was out of town for a week she filled her entire calendar with parties, dinners and movies with friends.
Me? I stayed home the whole weekend recuperating from fever and flu and watching Shrek the Third.
The silver lining on all of this was threefold:
I made further headway on Nassim Nicholas Taleb's The Black Swan, the most arrogant, irritating and mind blowing book I've read in recent memory. On which, more later.
I discovered the brilliant, and certainly somewhat insane, Jonathan Coulton, who is the songwriter I wish I became and the musician I certainly would never have become. I obtained some of his tracks (the first time I recall willingly shelling out $5 for downloaded music) for a Christmas CD to give to friends.
I managed to get my USB Guitar cable to work, being inspired by said somewhat insane musician to write a song about... well, something.
The JoCo thing was somewhat random - Facebook Slayers was down and the creators linked to the Re: Your Brains video (above): instant win!
I'd like to help you Tom, in any way I can
I sure appreciate the way you're working with me
I'm not a monster Tom, well, technically I am
I guess I am...
Labels: books, jonathan coulton, music, nassim taleb, random stuff
Tuesday, November 27, 2007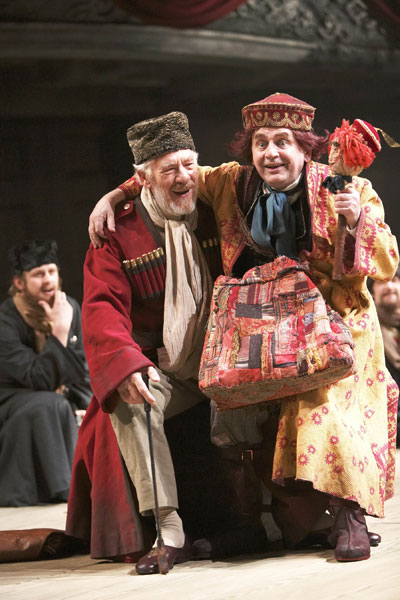 Van and I watched the RSC production of
King Lear
at the New London Theatre. While I had high hopes for Gandalf in this one, I walked out of the theatre slightly disappointed with his performance. Perhaps this was only because Sylvester McCoy's Fool really did outshine Ian McKellen's overwrought Lear.
Van thought the Cordelia (Romola Garai) was shrill and annoying; I only thought she might have had a back problem as she kept stooping in a perverse and certainly unhealthy way.
Shakespeare being what it is, there were moments of brilliance in a sea of confusion; whatever Trevor Nunn was trying for in this eighteenth century pistol whippin' Lear, I just couldn't see it.
Labels: ian mckellen, london, review, theatre
Monday, November 26, 2007
The seventh circle
I've always believed that "Hell is other people", while trite, is true to some extent: nothing makes me suffer more than the company of people who I despise (or despise me). Being alone in an inhospitable environment will do less harm to you than being forced to share breathing space with others who view you as an annoyance or (far more likely) a threat.

I've been enduring my own version of Dante's Inferno this morning: I am blogging from the waiting room of the French Embassy visa section, about 35 places away from my number being called. I've had to put myself through this a number of times before but it never gets any easier.

What is wrong with the visa system, the innate xenophobic tendencies of the west, and the sheer bloody inconvenience of it all; I could spend pages and pages on all of this. Suffice it to say, this will be the last visit in a long, long while. And it IS a day off work. Small mercies.

Tuesday, November 20, 2007
At a time when there isn't anything to give you confidence beyond yourself - you live in the "empire of the self" - then it is inevitable that you will seek those like you, because it will give you a sense of collective purpose. It will give you a sense of collective security.

And that's exactly what the internet is about - "If you like this book, others before you have bought these books..." And it works to create those little circles. All those little radio stations which tell you, "If you played this, other people have played this..."
- The Register's
interview with Adam Curtis
Monday, November 19, 2007
The spirit, free to work without plan, follows its own instinct; guided by natural line, by the secret opening, the hidden space, my cleaver finds its own way…
Then I withdraw the blade, I stand still and let the joy of the work sink in. I clean the blade and put it away.
- Quotations from Chuang Tzu, (3:2, pp. 64-67)
Tuesday, April 03, 2007
When friends leave
Oli's back from his three week sojourn to the far east (Cambodia, Vietnam and Indonesia). I haven't seen him yet but Van's just had dinner. Unfortunately, he may be away for even longer; Oli just found out his law firm won't renew his working visa.

Every time it happens I tell myself we'll only make friends with people who stay. We stopped going to the student gigs, stopped trying to make connections with the one-year postgrads and the short term expats. Selfish, true. But we keep trying to stave away that familiar feeling of loss. Can't blame us for trying.

Anyway, never mind. If he finishes his law degree his firm will hire him back. Oli reckons he'll only be away for a year or so. Coincidentally, Anj is back for a week in London, staying at our place with her boyfriend Liam while we drive off for our Easter holiday. I suppose distances are never too great, and days never too long. They'll all come back to London.

Tuesday, March 27, 2007
the most addictive show on TV. And I'm too tired to watch it.
Yes, it's
Life on Mars
, where Detective Inspector Sam Tyler is trapped / in a coma / going insane in 1973, surrounded by a misogynistic and overadrenalined Manchester police force. If there is one show which demonstrates the sheer addictiveness and quirkiness of British TV, this has to be the one.
Wikipedia
argues that British TV has more freedom, thanks to the TV license, to take risks with storyline, characterization and general weirdness. I don't believe it, but it's hard to argue with results like this. Episode 5 followed a botched investigation, a young girl's murder and the (completely believable) forced confession from a teenage hoodlum. What's great is how the events were reconstructed - in his "coma" state, Sam was given an overdose of some drug which caused him to hallucinate and pick up memories from Gene Hunt and crew back in 1972. It sounds absolutely bat shit - and it is, brilliantly so.
Best line of the night: "Excuse me, Mrs. Woman?"
Monday, March 26, 2007
Passing time
...another week begins. I put Van on the last train back to London and wanted to wave at her from the station platform, but a pillar was in the way. We spent an enjoyable weekend
walking the walls of Chester
. The sun was out and it made our weekend that much more enjoyable: long bouts of coffee punctuated by bookstore browsing, walking, the occasional meal, and just enjoying each other's company. I never enjoyed the town as much as I did these past couple of days.
view from the Clock Tower by harrymoon
Now I'm passing time, watching emo remix videos of
Avatar: The Last Airbender
on YouTube; wishing that the third Book (Fire) would finally air; that I was home watching all the previous episodes with Van, with a big cup of coffee and maybe some eclairs; and that I wasn't here, waiting for another week to begin.
Labels: chester, travel, update
Friday, March 23, 2007
Weekend at my place...
...up in Chester, that is. Van and I took the train up tonight and had a lovely hot dinner and watched the gray skies of London literally roll away.

Am finding myself spending less and less time in London. Plus ça change... it wasn't too long ago that I was out in the sticks in Basingstoke wishing I could spend more time in the capital. Only this time, I'm actually kind of enjoying my time with the HBOS project.

At least I can finally show Van the flat and walk the walls of Chester. I'm sure we'll find some other things to do as well.

Thursday, March 22, 2007
Gaming at its finest
In a first ever occurrence for
Jeopardy!
(a show far older than even me), three contestants walked off with
$16,000 each in a three-way tie
.
From the sounds of it, the frontrunner in the game could have done what legions of others have done and bid $1 above his nearest competitor. That way, being relatively certain of his Final Jeopardy! answer, he would come out on top. Instead he gamed the system and rather than one person winning $16,001, three people got a total of $48,000.
A rematch has been scheduled but obviously they can't pull the same trick twice or else the show organizers will have a long hard look at their tactics.
Labels: news, random stuff
Wednesday, March 21, 2007
Mister Brown strikes again
Here in the UK,
Mister Gordon Brown
is a man who lives next to Mister Tony Blair and plays with the money of everyone in the UK (except his own). Every year he sets something called a
budget
which tells us how much more money the government tries to claw from our wages and daily life. Every year Mister Chancellor pats himself on the back for a job well done and scolds us for trying to hide money from the tax man. Bad, bad, Mister Brown.

This work is licensed under a Creative Commons License.